9 WAYS TO SAVE MONEY WHEN PLANNING YOUR HOME EXTENSION
Whether you are new to home extensions or are an experienced developer when you are in the early stages of planning to extend your property there are numerous things you can do to stay within your budget.  
Creating a modern, functional and practical extension without breaking the bank is easy, just follow these simple rules.
Use an Architectural Designer, not an Architect.
Both will provide similar services for a domestic extensions; however, the price you pay will differ greatly.
Stick to your Budget!
One rule to remember is, you should always have a contingency budget in case anything unforeseen happens. However, you can still bring down the costs of any project by simply planning your budget and sticking to it. Spend some time planning, budgeting and shopping around for even the smallest of details so everything is covered.
Keep it simple!
The more angles and corners you have in your extension, the more money you will pay for labour and materials. A simple rectangle or square extension will be the cheapest option. Also, the simpler the building materials and interior fittings are, the more affordable the project will be overall. The industry has a wide range of products readily available and easy to use. Naturally, if you are looking for a custom-made solution the costs can escalate. A good Architectural Designer will be able to advise on the best design to keep the costs down while incorporating a high-value design.


"A simple rectangle or square extension will be the cheapest option."

Keep it small!
You can save on Planning Fee's by making sure your extension falls within the Permitted Development Rights. There are certain limitations and conditions that need to be met for your extension to fall within the Permitted Development Rights. Read more on permitted development here.
Avoid made to measure and special-order products.
Stick to standard-size doors and windows. Velux windows in the roof will be a lot cheaper than a roof lantern. If you really want to cut the costs don't have any roof windows.
Reuse, Recycle or Repair.
Just because you're getting a new extension it doesn't mean you need to rebuy everything new, so before you throw away any of your old furniture, think about selling, reusing or upcycling, there are specialist paints available for upcycling like Frenchic and Annie Sloan.  Floorboards can be easily sanded or painted, the same can also be said for kitchen units and work tops. Shop around for Salvaged materials, try second-hand shops or salvage yards, these places can work out a lot cheaper than buying everything brand new and may even add a little more character to your project.

Avoid Complicated Ground Works!
If possible, avoid complicated groundworks, such as building near to trees or drains and sewers, or other buried services, all these will increase your groundwork costs and construction time. Remember, though, that if you live in a Conservation area your choices may well be limited.
Party Wall Act
If you plan on building on or near the boundary of your neighbouring properties, your extension will need to comply with the Party Wall Act (communities.gov.uk). If you do need a party wall settlement it will cost approximately £700 per neighbour, possibly more if they insist on using their own independent surveyors. If you can get a written agreement from your neighbours, you can avoid using a surveyor and this can save hundreds of pounds in fees. It pays, therefore, to keep your neighbours happy. Discuss your plans with them, be considerate, it could end up saving you in the long run.
Avoid Cowboy Builders 
Cowboy builders are known as cowboys because they will underestimate the cost to secure a job. Read reviews and speak with past clients, any good build should be happy to share past projects with you.
If you stick to the above plan you will no doubt achieve the best design for your budget, we are CK architectural truly believe in creating peoples dream homes without breaking the bank.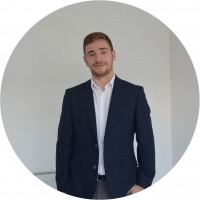 Written by Liam O'Brien
Architectural Designer