We believe schools should be designed to be buildings that inspire learning whilst nurturing every pupil and member of staff. We aim to achieve this by creating aspirational buildings. A successful design of a school should be a close collaboration between funders, local authorities, school communities and the design team. This success also begins with the brief that understands and reflects your needs / requirements. Working with you and the rest of the team we can familiarise ourselves with your requirements. This will ensure your school achieves all its goals and objectives whether it be primary education to universities, from libraries to research labs or Sports facilities.
If it's a full re-build, new build or extension to expand facilities we have the design solutions for you.
Call or Email us today to find out more.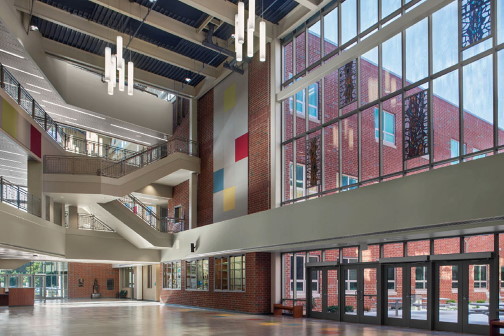 We believe schools should be designed to be buildings that inspire learning whilst nurturing every pupil and member of staff.
Using our knowledge and experience we can develop the school to your needs to allow its smooth running whilst complying to the standards, regulations and guidelines which exist within the industry. Safety, security, equal accessibility, sustainability are all important aspects of the design which need to be considered during the early stages of the project.
We can offer different drawing output formats ie sketches, 3D visuals, walk-throughs, models etc. which will allow us to communicate the design ideas / solutions to yourselves or to other 3rd parties who need to understand and sign-off the build.
Working closely with our team / other consultants we can offer a full range of expertise to a project which enables us to deliver designs that are not only architecturally successful but also ensures the most economical and efficient design solutions have been derived fully incorporating budget, structure, services, Health and Safety etc from the early stages of the project.
We offer a full architectural design package from building inception through to the completion, covering all RIBA work stages.  This can begin with feasibility and concept design, to planning and building regulations approved drawings with specifications ready for tender / construction.  This is also complemented (if required) by contract administration services which includes site inspections and monitoring the build on site to ensure the contractor is building in compliance to the approved construction drawings, specifications and the building contract.
We are always improving our knowledge of building processes tackling sustainability and energy conservation strategies to ensure your building complies with the latest regulations and required performances. We always aim to deliver projects which allow your building to have minimum environmental impact and cost.
Whether you are a local authority school, private funded school or college we understand the need to design high performance facilities that are cost-effective to build, run and maintain. It is also imperative that buildings are engaging, pleasant, inspiring environments, furnished with quality systems, helping establishments to attract and retain students and staff.